So I didn't really watch the Golden Globes this year, but I made sure to look at the red carpet pictures of the pretty dresses after! AND the results for the awards- still can't believe that INCEPTION didn't win anything, but I'm glad Natalie Portman won best actress for BLACK SWAN.
I've always loved looking at Golden Globes dresses because they are so over-glamorous and out there. Plus, people can't just show up to the Golden Globes dressed casually in anyway, unless they are looking to be criticized and ripped to shreds!!
Anyways, I wanted to put up my top 3 outfits/looks for the night and explain why I like them. I'm not too crazy about high fashion and pieces people don't really understand but I have my personal opinions and preferences.
SHE'S 20!!! I thought she was much older by the way she looked. The hair doesn't make her look fresh and young, like it should. I would have preferred it if she didn't have her bangs covering her face. I mean, it's a nice style but it really ages her.
Sooo I just like her dress and necklace. I like the way the bottom of the dress is so flowy and soft. I think it's chiffon.
Eva Longoria was my second favorite. I love love love the dress and it makes her look so slender yet curvy in the right areas. The train was so pretty and I swear I would have tripped if I wore that. The dress was not overpowering at all considering how petite she is (like me!!). It was absolutely perfect on her and probably made Tony Parker feel worse for losing her.
Anne Hathaway was my favorite for some reason. I'm not saying it's ugly because it's not! I usually don't like such sparkly and sequined pieces. But this was gorgeous!! It fit her so well and made her look absolutely stunning. Her accessories were minimal, as it should be considering her dress was so attention-grabbing. So all she had was her clutch, earrings, and a ring. That's all she needed!
It really made her look lengthier and slender, which is always good. The shoulders were poofy and padded but it gave the dress that extra something. It kind of reminded me of Angelina Jolie's dress for the night but I thought Anne Hathaway looked a lot better.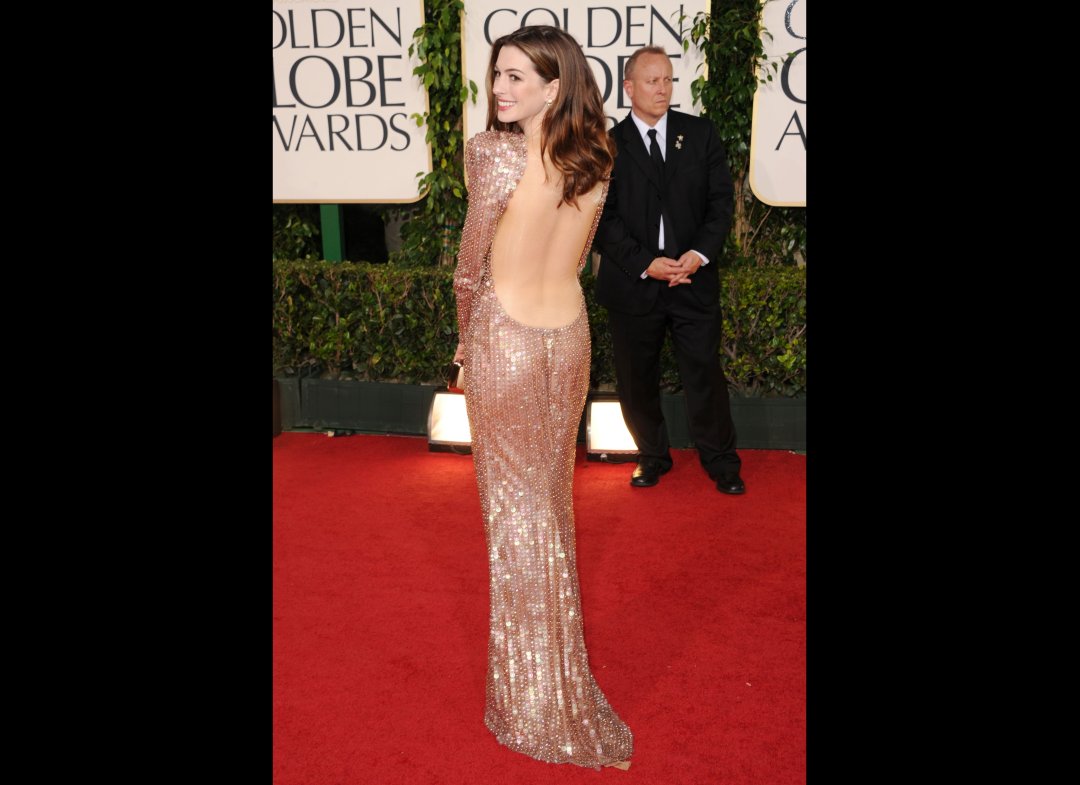 But the part people liked most about the dress, once again, is the BACK!! They were already mesmerized with her from the front, but once she turned around....BAM!! Even more beautiful!
Once again, I have a thing for backless dresses. But there's something about this dress that I love. Don't quite know what it is but yep!
You might disagree with me on who the best dressed was, but I don't care. This is what I liked, alright?! hehe
Just a small note: I used images from other websites like yahoo, huffington post, and just jared.